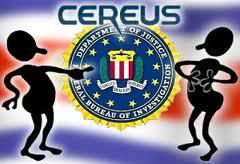 Absolute Poker/UB Reaches Agreement With U.S. DOJ
The chaotic week for the CEREUS Network continues when it was announced on Tuesday that Absolute Poker and UB has made an agreement with the United States Department of Justice. The statement released by them is in regards to the "Black Friday" online poker indictments filed by the U.S. DOJ, and although a formal agreement has been reached, the funds are not available for withdrawal just yet.
The agreement is a first step in hopefully getting funds back to Americans. Due to the April 15th U.S. Department of Justice indictments, eleven people involved in some of the largest online poker companies were indicted, including Scott Tom and Brent Beckley of Absolute Poker.
As a result of the U.S. DOJ indictments, Absolute Poker and UB froze player funds. Both poker rooms stopped accepting U.S. customers, although Absolute and UB still allow American players who were customers prior to April 15 to play, unlike PokerStars and Full Tilt Poker which blocked U.S. players from playing real money games.
Even though existing U.S. players on Absolute and UB can still play on the sites, understandably, they are more concerned about getting their funds back.
PokerStars begun repaying US poker players in late April, while Full Tilt Poker announced that player's funds are safe but they are yet to allow players to withdrawal their funds.
For Absolute and UB, while returning funds back to players on both sites was not the only reason for the agreement, it was certainly a major factor.
The press release issued on Tuesday, reads in part:
"Absolute Poker has reached an agreement with the United States Attorney's office for the Southern District of New York ("SDNY"). Under the agreement, the US Attorney's Office has agreed to provide all necessary assurances that third parties may work with Absolute Poker to facilitate the return of funds, currently held by third party processors, to players located in the US. This provision is an important step to returning US player funds."
While these recent developments are good news for U.S. based Absolute and UB players, there is still a lot of work to be done before customers can expect to be able to access their funds. Absolute Poker says that due to several legal issues the funds can't be released straight away.
Unlike the reached agreements PokerStars and Full Tilt Poker made with the DOJ, Absolute Poker will not have its .com domain names reinstated.
The last week has been extremely hectic for Absolute Poker and UB. On May 5th, in light of the indictments, Blanca Games, the parent company of the CEREUS Network, announced that it was letting go of approximately 95% of its workforce, which included all 11 U.S.-based sponsored pros. The following day, Costa Rican law enforcement officials had warrants for raiding the offices of Innovative Data Solutions, the customer service center for both Absolute Poker and UB, which is located in Costa Rica. The officials were apparently looking for executives involved with the online poker companies.
Tuesday's news was the first bit of good news in relation to Absolute Poker's involvement in "Black Friday".