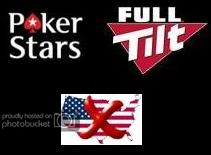 PokerStars and Full Tilt Poker no longer accepting U.S. players.

On Friday April 15th, 2011 the Manhattan U.S. Attorney, Preet Bharara indicted the owners and other figures of the online poker sites, Full Tilt Poker, PokerStars and Absolute Poker on fraud and money laundering charges.

A total of 11 dendants have been charged including PokerStars founder Isai Scheinberg, Full Tilt Poker founder Ray Bitar and Absolute Poker's Scott Tom.

The domain names of Full Tilt, PokerStars, Absolute Poker and Ultimate Bet were all seized and now show a message from the FBI. Because of this Full Tilt Poker redirected its site to fulltiltpoker.co.uk, PokerStars directs to pokerstars.eu, Absolute Poker directs to absolutepoker.eu and Ultimate Bet directs to ubpoker.eu.

In light of the charges, PokerStars is no longer accepting U.S. players and has issued the following statement.

"As you may have heard, we have had to suspend real money poker services to people based in the U.S. due to legal developments there,"

"The developments are confined to the U.S. and do not have any impact on your ability to continue using our services. Please be assured player balances are safe. There is no cause for concern. For all customers outside the U.S. it is business as usual."

The statement then goes on to say that the new PokerStars support email address is [email protected] and that you should contact them if you have further questions.

Full Tilt Poker also issued the following statement.

"Full Tilt Poker is saddened by today's charges against its CEO Raymond Bitar and offers its full support to Mr. Bitar and Nelson Burtnick,"

"Online poker is a game of skill enjoyed by tens of millions of people in the United States and across the world. And, Full Tilt Poker remains as committed as ever to preserving the rights of those players to play the game they love online."

"Mr. Bitar and Full Tilt Poker believe online poker is legal – a position also taken by some of the best legal minds in the United States. Full Tilt Poker is, and has always been committed to preserving the integrity of the game and abiding by the law."

The statement then goes on to say that they have suspended all real money play to U.S. players and that the money in their accounts is safe. It also states that they can be reached at [email protected].

At the time of writing, neither Ultimate Bet or Absolute Poker have publicly commented on these events and are still accepting U.S. players.