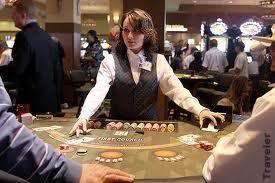 The impact of live dealer casino games on the online gaming market
Although it was predicted that mobile technology would be the next big thing in the online gambling market, it would seem that it's actually Live Casino software that has brought online gaming into the 21st century.
This new innovation allows players to play their favourite casino games live from the comfort of their own home thanks to a high quality web feed which broadcasts the action directly into a standard web browser. The games are hosted by professional dealers and usually take place in a standard brick and mortar casino with real casino equipment and cards.
This software has become hugely popular with players who have, until now, missed the friendly atmosphere of a usual casino. That's because the best live casinos will allow players to chat not only to the dealer but also to any other players involved in the game. What's more, a generous selection of customisation features has allowed them to create a gaming atmosphere suited to their exact needs.
The software has also been a hit with those players who have struggled to believe that standard casino software is as fair as everyone suggests it is. By being able to watch a real live game of Blackjack or Roulette, there can be no doubt that the results are genuine which has led to a variety of players being more willing to play additional games.
In fact the impact of these live casinos has forced some of the industry's largest names to sit up and take notice. In the last few months both Betfair and Bet365 have announced that they have launched a selection of live dealer games, which is expected to be expanded throughout the rest of the year.
The effect has been seen on the other side of the Atlantic too with a whole host of US-Friendly casinos and sports books promising their users that live dealer games will be available to them over the course of the next few months.
At the time of writing, BetPhoneix and 5Dimes appear to be leading the way with this, although it is expected that some of the more traditional US casinos will be launching their own array of live games by the end of the summer.
When it comes to the games on offer, live software incorporates some of the best known games in the casino. Craps and Baccarat join more established offerings such as Roulette, Blackjack and Poker to offer an experience which has seen a number of dedicated live casinos become hugely popular in a very short space of time.
The market is still arguably led by Smart Live Casino (who also allow members in Europe to play via their television) although the likes of DublinBet.com (who broadcast live from their own casino in Dublin) are also now able to attract a huge audience.
One thing for sure though is that Live Casinos seem to be here to stay with recent estimates suggesting that they now account for almost a fifth of all casino activity.
With such a large market share already, it will certainly be interesting to see how their growth affects the gambling industry over the course of the next few years.